Products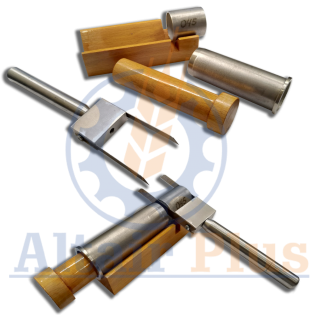 Izmeritel poristosti hleba
designed to determine the porosity of bread by the Zavyalov method
Altair Plus Company provides warranty and after-warranty service and repair of products manufactured by the company. Warranty periods are indicated in the accompanying documentation and may vary depending on the type of product.
Payment is carried out according to the invoice issued by prior agreement with the manager of the company. You can pay an account at any bank or transfer money through another bank account.
Delivery across Ukraine of the goods ordered by you can be carried out by the cargo-transport companies "Delivery", "SAT", "Novaya Pochta", "Night Express". Delivery is carried out within 1-3x working days in the most appropriate way for a particular order at the expense of the buyer.
The device for measuring the porosity of bread crumbs BPM is designed to determine the porosity of bread by the method of Zavyalov (analog of the Zhuravlev device).

Scope: in the laboratories of flour mills, bakeries and other organizations, research institutions engaged in the evaluation of bread quality.

The device consists of a calibration cylinder, ejector, detachable glass and a knife. Allows a loaf of bread to be cut from a loaf of bread or loaf, and a porosity can be calculated by weighing the cut out. The device allows to carry out measurements with high enough accuracy, simple and convenient in operation, has sufficient reliability, does not require special training of the operator.

Download instruction manual:

| | |
| --- | --- |
| Russian language: | |
| Ukrainian language: | |

You can buy a device for measuring the porosity of a crumb of bread of BPM (analog of the Zhuravlev device) or other laboratory equipment at PE Altair Plus using the contact information on the Contacts page.
Overall dimensions?:
| | |
| --- | --- |
| Cutting cylinder assembly, mm | 50х60х140 |
| Knife assembly, mm | 16х40х190 |
| Weight of the device, kg | 0,4 |
Contents of delivery
Device for measuring the porosity of crumbs of bread BPM included

| | |
| --- | --- |
| Calibration cylinder | 1 pc. |
| Detachable cylinder assembly with stand | 1 pc. |
| Cutting knife assembly | 1 pc. |
| Ejector | 1 pc. |
| Operating Instructions | 1 pc. |
| Packaging | 1 pc. |
From the middle of the product cut a piece of crumb with a width of not less than 6.0 cm. the crumb. The cylinder-filled cylinder is placed on the glass guides. The bread crumb is then pushed out of the cylinder by an ejector into a cutting beaker. The crumb should come out of the cutting glass not less than 1 cm. Cut the crumb with a cutting knife reciprocating with a light pressure. The remaining crumb in the detachable glass is ejected by the ejector.

To determine the porosity of wheat bread, make three cylindrical notches, for rye bread and bread from a mixture of flour - four notches. In artificial products, where the slices are small, the clippings are made of two products.

Further, in accordance with the methodology and formulas described in the operating instructions to calculate the porosity.

The porosity is calculated to within 1%. Shares up to 0.5% inclusive are discarded and more are equated to 1.