Products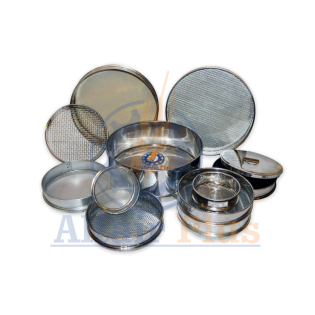 Sita laboratornye
Laboratory sieve is used by universities, research and design institutes.
Altair Plus Company provides warranty and after-warranty service and repair of products manufactured by the company. Warranty periods are indicated in the accompanying documentation and may vary depending on the type of product.
Payment is carried out according to the invoice issued by prior agreement with the manager of the company. You can pay an account at any bank or transfer money through another bank account.
Delivery across Ukraine of the goods ordered by you can be carried out by the cargo-transport companies "Delivery", "SAT", "Novaya Pochta", "Night Express". Delivery is carried out within 1-3x working days in the most appropriate way for a particular order at the expense of the buyer.
Laboratory sieves are used to sort into fractions according to the magnitude of the separation of the screened material, based on the size of the sieve cells.
Sieves are used in various industries: grain, construction, chemical, pharmaceutical, metallurgical, food, mining, food and many others where it is necessary to separate the material (grain and processed products, crushed stone, coal ...) by the size of its particles by separation method using sifters, vibrating machines, manual method.
Sieves are manufactured in accordance with the following standards:
metal-woven (wire mesh n / f) with square cells according to GOST 6613-86, GOST 3826-82, TU-14-4-507-74, TU 14-4-137-9
laboratory metal punch TU 23.2.2068-94, TU 5.897-11722-95
silk (polyamide) according to GOST 4403-91
The shell of the laboratory sieve is made of stainless or galvanized steel with a thickness of 0.5 or 0.55 mm. welded seam.

Sets of screens are formed in accordance with the requirements, additionally completed with a lid and bottom.
If necessary, a certificate of initial certification of the sieve issued by the center of standardization and metrology is provided.
Sieve analysis is done with one or more sieves, a lid and a bottom.
Based on the conditions of the analysis, the number of sieves, the size and shape of the openings of the webs, the size of the mesh cell are determined. Laboratory sieve is available with a shell diameter of 300 mm and 200 mm 120mm, respectively.
Hardware Description
The kit for sorting materials into fractions consists of a set of laboratory sieves, a lid, a tray (bottom).
Sieve
The screen design is a container with cylindrical walls, the role of which is performed by a metal shell, and the bottom in the form of a screening element.
The main elements of the sieve:
Shell;
screening element;
nameplate (with trademark and cell / hole size) or other type of marking.
Depending on the design, there may be rubber rings, fasteners, and shells may be two or more (divided into upper and lower).
Cover
Structurally, laboratory sieve covers are made in the form of an inverted container with low walls.
The main elements of the cover:
Usually, a small width bend is made along the edge of the shell, in the form of a chamfer guide, making it easy to install the cover on the sieve.
Pallet
Pallets are in the form of a container with walls, approximately as in a sieve.
The main elements of the pallet:
Also, the pallet may include a rubber ring mounted on the bottom for better stability and fixing the snap in the fixtures.
Terms & Conditions
Before use, make sure that there are no contamination or damage on all parts of the equipment. Defective screens in the laboratory are not recoverable and are written off as scrap metal. In collapsible snap-in models, the spoiled screening element is replaced by a whole.
General work order:
Place a sieve set on a pallet.
Pour the scattering material into the top sieve (no more than specified in the documentation) and cover with a lid.
Give the equipment oscillatory movements (manually or using special devices).
Continue the scattering process until the final separation of the material into fractions (duration is determined empirically).
Disconnect the screens and the tray.
Perform the required actions on the material fractions obtained.
At the end of the work, the equipment must be cleaned.
When working with toxic materials, use personal protective equipment and apply safety measures as required by the relevant regulations.
SITA LABORATORY SL-200, -120 (h-50) (Diameter 200mm, 120mm) Height 50mm
Polyamide sieve flours
Marking - "СЛШ"
(No. 67, 64, 61, 58, 55, 52, 49, 46, 43, 38, 35, 32, 29, 27, 25, 23, 21, 19, 15, 11, 9, 7) / p>
GOST 4403-91
Metal Metal Sieve
Marking - "SLM"
(0.04, 0.045, 0.05, 0.056, 0.063, 0.071, 0.08, 0.09, 0.1, 0.112, 0.125, 0.14, 0.16, 0.18, 0.2, 0.25, 0.28, 0.3, 0.315, 0.32, 0.355, 0.4, 0.45 0.5, 0.56, 0.63, 0.67, 0.7, 0.8, 0.9, 1.0, 1.2, 1.25, 1.4, 1.6, 1.8, 2.0, 2.2, 2.5, 2.8, 3.0, 3.2, 3.5, 4.0, 4.5, 5.0, 6.0, 7.0, 10.0, 12.0, 14.0, 16.0, 18.0)
GOST6613-86, GOST 3826-82, 3306-88, TU 14-4-507-99
Sita Punch
Marking - "SLP"
Type І
(0.5, 0.8, 1.0, 1.2, 1.3, 1.5, 1.6, 1.75, 1.8, 1.9, 2.0, 2.1, 2.2, 2.3, 2.4, 2.5, 2.6, 2.7, 2.8, 3.0, 3.2, 3.25, 3.4, 3.5, 3.6, 3.7, 3.8, 4.0, 4.2, 4.5, 4.7, 4.9, 5.0, 5.5, 6.0, 6.5, 7.0, 7.5, 8.0, 8.5, 9.0, 9.5, 10.0, 10.5, 11.0, 12.0, 13.0, 14.0, 15.0, 16.0, 17.0, 18.0, 19.0, 20.0, 24.0, 25.0, 30.0, 36.0, 40.0, 50.0, 60.0, 70.0, 80.0, 90.0, 100.0)
Spec. 23.2.2068-94
Sita punch, slit
Type II
Marking - "SLP"
(0.8x20, 1.0x20, 1.2x20, 1.4x20, 1.5x20, 1.6x20, 1.7x20, 1.8x20, 1.9x20, 2.0x20, 2.2x20, 2.4x20, 2.5x20, 2.6x20, 2.8x20, 3.0 х20, 3.2х20, 3.2х25, 3.4х25, 3.5х20, 3.6х20, 3.6х25, 3.8х20, 3.8х25, 4.0х20, 4.0х25, 4.2х25, 4.5х20, 4.5х32, 5.0х30, 5.0х32, 5.5х32, 6.0x32, 6.5x40, 7.0x40, 7.5x40, 8.0x40)
TU5.897-11722-95, TU 23.2.2068-94
SLD Bottom
SLC Cover
SITA LABORATORY SL-300 (h-50)
Metal-sieve sieves SLM-300, penetration of SLP-300
SLD Bottom
SLC Cover
SITA LABORATORY SL-300 (h-100)
Metal-sieve sieve SLM-300, penetrative SLP-300
SIT KITS
Sieve Kit for Infection Control
SLP-300 (N = 50mm) bar., 1.0, 1.5, 2.5, Don + Cr
Sieve Kit for Infection Control
SLP-300 (N = 50mm) bar., 1.5, 2.5, Don + Cr
SL Sieve Pack P-200 for grain
(20 pieces. SLP-200 - Ø1.0; 1.5; 2.0; 2.5; 3.0; 4.0; 4.5; 5.0; 6.0; 7.0 ; 8.0; 1.0х20, 1.2х20, 1.4х20; 1.7х20; 1.8х20; 1.9х20; 2.0х20; 2.2х20; 2.5х20 + 4СЛД + 4СЛК)
SL-200 Sieve Kit for Flour
(12 pieces of SL-200 - No. 23, No. 25, No. 27, No. 35, No. 38, No. 43, No. 140, No. 150, No. 190, No. 250, No. 0.45; No. 0,67 + 4SLD + 4SLC)
SIT-200 SIT-kit for cereals
(19 pieces. SL-200 - Ø1,0; 1,5; 2,0; 2,5; 3,0; 3,2; 3,4; 3,5; 3,6; 3,8 ; 4.0; 1.7x20; 2.2x20; 2.5x20;? 4.5; 5.5; No. 0.56; No. 0.63; No. 0.8 + 4 SLD + 4 SLK)
List of used laboratory sieves SLP-200 GOST 13586.2-81
Methods for determining the content of weed, grain, especially taken into account impurities.
Wheat
DSTU
Rye
DSTU
Food and Feed Barley
Barley for brewing
Oats
Millet
Buckwheat
Figure
Corn
DSTU
ISO
Rye
1.4x20
1.0
Beans
Lentils food
Lentils
Small Seed Lentils
Chin
Nuth
Feed Beans
Sorghum
Vika
Soy
DSTU
Sunflower
DSTU
Coriander
DSTU
Rape, mustard, flax
Peas
PE "Altair Plus" manufactures and sells laboratory equipment under the order. You can buy a laboratory sieve using the contact details of the company on the Contacts page.